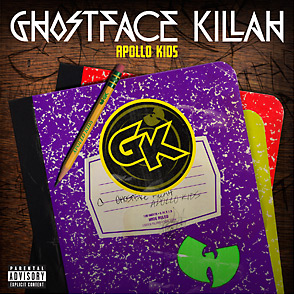 On paper, Apollo Kids appears to be Ghostface Killah's least-promising release to date. The short track listing reveals a mostly-unknown production roster and guest verses on all but three songs, there's no unifying theme like last year's Ghostdini: Wizard Of I'm Not Typing All That Shit (AKA 14 First Singles About Girls), and no carefully-crafted or humorously-random skits. The piss-poor marketing push, generic school-themed artwork, tossed-off title, and this smoked-out video describing the LP as a "warm up" all suggest half-assed contractual obligation/tax write off.
In listening, Apollo Kids indeed lacks the meticulous cohesion and well-sequenced ebb and flow of his best works. More than any other Ghostface album, this feels like the sort of "collection of random songs" critics complain about when discussing modern rap records. Despite this, Apollo Kids manages to be a thoroughly-satisfying, fast forward-unfriendly addition to the MC's discography.
Perhaps more than any other rapper, Ghostface understands quality control and knows how to select audience-pleasing production. Relative newcomer and 2009 Red Bull Big Tune winner Frank Dukes churns out the type of gritty, soul-sampled selections over which Ghost excels. His three contributions (the vintage Wu-Tang opener "Purified Thoughts", dusted-out Theodore posse cut "Black Tequila", and the predictable-yet-awesome back-in-the-days cut "In Tha Park") resonate the deepest, with thick drums, pained vocal samples, and distorted blaxploitation guitars. The absurdly bass-heavy, Pete Rock-produced Fishscale outtake "Chunky" resurfaces as "How You Like Me Baby", and instantly makes one long for the days when the Soul Brother's name regularly appeared in album and remix credits. Recent behind-the-boards favorites Jake One and Scram Jones turn in similarly raw, street-level backdrops for Ghostface and company to demolish. With an utter lack of airplay concessions, Apollo Kids' beat work ensures consistent comfort for the stodgiest of heads. Even the for-the-ladies cuts "2getha Baby" and "Handcuffin' Them Hoes" pack enough soul to distinguish themselves from standard radio fare.
For his part, Ghostface Killah shows and proves why he remains one of hip hop's most valuable and distinctive voices. The aforementioned "Purified Thoughts" concludes with a weirdly-profound volley typical of the Wally Champ:
Catch me in a little hut in Benin
Village style, feeding the children
Big pots of jasmine tea with Mandela
Africans chanting me on like Coachella
Ghostface boombaye
Kumbaya my lord, my death day, 24-karat tomb I lay
Wishing they could bury me next to the prophets
Nabila, Isa, Musa, Hadra, Muhammad
Ibrahim
Though not as unforgivably cryptic or dense as on the beloved Supreme Clientele, Ghostface still manages to slip in his unique visuals throughout Apollo Kids ("Leave you hanging like your last name/Or an old man's nuts that sag with no shame", "Love my onions diced up real little", "Have that ass sweating like T.D. Jakes"). The biggest problem is that there's simply not enough Ghostface. The crowded guest list restricts our host to one or two verses per song. Aside from show-stopping appearances by The Game and Black Thought, and an expectedly-lame performance from Jim Jones, none of the other collaborations are positively or negatively notable.
Even at his most no frills, Ghostface Killah's output manages to eclipse that of MCs from his, or any era. His clear dedication to making excellent songs and steering clear of his last album's R&B-tinged sound makes Apollo Kids a winner, even if it's not his most conceptual or cohesive LP.